TEAMWORKS APP - A proposed solution
The redesign Starbucks partners are yearning for.
The Teamworks app provides scheduling features to Starbucks partners (baristas, shift managers and store managers) and aims to improve communication among partners.
​Currently partners are frustrated and concerned about the app's usability and design, this is attributing to more confusion and distrust with the app. 
1.
Improving the information architecture of the app. 
2.
Introducing a new feature that resolves coverage problems.
3.
A redesign of the app using UI principles to enhance the user experience.
​BRAINSTORMING
Starbucks partners (Baristas, Shifts and Managers) are in need of an effective way to communicate with each other that facilitates their work lives.
An app could provide partners with the tools they need to reduce the stress of scheduling. 
Currently, partners are able to use a scheduling app called Teamworks to view their schedule, change their availability and request time off.  In the past partners were expected to take pictures of a printed schedule and speak to their managers to fill out a form to get new availability and time-off approval. The Teamworks app currently in place is not designed to fit Starbucks partners and their needs. Partners have expressed frustrations and concerns with the apps design and usability. 
INTERVIEWS & OBSERVATIONS
Starbucks partners were observed navigating the current Teamworks app and interviewed afterwards. These are the findings of the task tests.
- 5 out of 8 partners were confused by the "My Pay Summary" feature and wanted more, or wanted it gone due to its irrelevance.
- Partners were tasked to request time-off and

6 out of 8

partners stumbled and were confused by the layout and navigation of the app, the partners were unable to determine if the hours they'd selected were indicative of hours available to work, or hours they couldn't come in for their time-off request. 
Partners were asked follow up questions pertaining to their experiences on the app and over all scheduling at their store. 
These were the observations made:
- Overall partners are frustrated with the current schedule, it lacks hierarchy, and partners are unable to view other partners' schedules, which would really benefit them when seeking coverage. 
- Partners expressed annoyance with the effort and time wasted in finding coverage. This inspired the creation of coverage feature.
- Partners want more features, including, vacation hours, sick hours, and pay information, they no longer want to log in to multiple sites to view different information.
- Partners wanted the app to be neat and easy to use, they're expecting a strictly professional atmosphere. 
- Few partners use the Teamworks website, where they can access work related  information, they avoid the site due to it's design and lack of features.
- A couple partners wanted to make sure the app wasn't mandatory, because they aren't tech savvy, and they don't want to deal with learning a new application.
1. Redesign the navigation and organization (IA) of all features.
2. Create a coverage feature that will improve the coverage process and
     introduce other features that will encourage partner use.
3. Redesign the app, focusing on the schedule, using UI principles.
The following personas help identify the different needs between baristas, shift managers and store managers. Store managers are responsible for a more administrative workload they would benefit from more features in the app that allow them to accept time-off requests or availability changes.
TACKLING THE NAVIGATION & ORGANIZATION 
Aft
er analyzing partners and their needs, additional features were added to the redesign in order to minimize the need for other digital tools. A profile feature will provide partners with payroll and personal information, and the chat feature will allow partners to communicate with each other and managers effectively. The green challenge feature is being introduced as a fun feature that will help inspire partners to go green. Starbucks is aiming for sustainability, and this added feature will encourage behavior change and accountability among partners. 
Partners were asked to group features according to their personal needs, and relevance. Although partners placed features in to different groups a pattern was observed.  Scheduling features were kept separate from chat, profile and setting features, this inspired a new approach to the organization and navigation of the apps features.
Redesigning scheduling features was top priority due to their primary focus on the app. Secondary features like a chat and profile, which are meant to streamline communication and personal information, are nice to have and could potentially become prominent features.
Starbucks partners would benefit from a better organized app, thus the hamburger menu was removed and a  navigation bar was added to the bottom of the screen with four categories: dashboard, schedule, profile and more, the chat feature was added to the top right of the screen for easier access. This new IA assures easier usability and flow.
TACKLING THE COVERAGE PROCESS
Currently the Teamworks app does not provide a coverage feature. When seeking coverage partners text, message, or personally ask each other for coverage. This journey map depicts the process, pain points and actions partners go through. Frustrations, like searching for coverage, are resolved in the redesign.
The redesign simplifies the coverage process. Partners can allow the app to do all the work. Partners that are available and have agreed to receive notifications about shifts in need of coverage can accept to or decline shift offers from other partners. When looking for coverage partners can choose who they ask for coverage; a specific partner, their store, or their district.
THE DESIGN
Sketches were done throughout the entire journey, these early draft sketches inspired future design work like the coverage and dashboard features.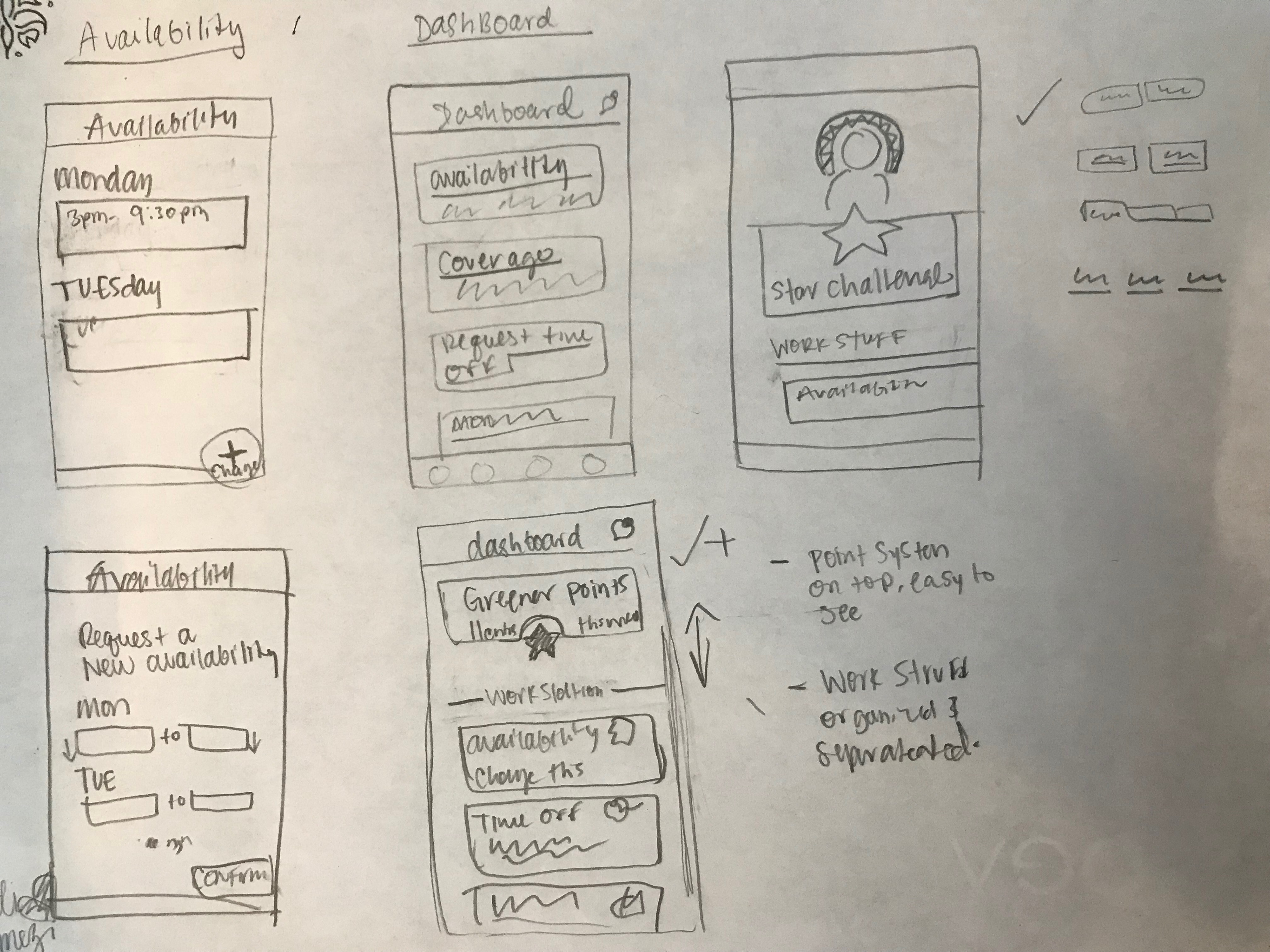 The redesign of the weekly schedules focused on hierarchy for readability. Partners need to be able to look at a schedule and quickly understand when they work and what role they're in. The redesign uses hierarchy and contrast among groups for easier scanning.
​​​​​​​
The coverage feature gives partners three options when seeking for coverage: a partner, my store and my district. Each of these options leads to a different screen that prompts them to either search for a partner, or send a request to the partners available at their store or district. Afterwards partners simply wait for someone to accept their shift. If no one responds, partners can try a different option when seeking coverage again. Partners who are available and have previously agreed to receive request notifications from partners that are seeking will be able to accept and decline offers. This process will reduce stress and improve communication between partners.
The Teamworks app was in need of a new look. The redesign has a green monochromatic color palette to complement the Starbucks brand and reduce cognitive overload. The sans serif, Montserrat, is the primary typeface, it's modern and tidy look supports the app's clean interface. The new logo mark was inspired by the Starbucks partners due to their quality service and commitment to creating a third space. The two shapes come together, expressing community, connection, and collaboration.
Usability testing was conducted throughout the process, partners repeatedly tested updated versions  of the app, some of the findings have been applied to the current app, or will be implemented in future revisions. The following is the usability testing analysis for 8 Starbucks partners. They were asked to complete three tasks, seek coverage by searching for specific partners, seek coverage from their store or district, and to view their schedule and dashboard.  
All 3 of the shift supervisors required a scheduling system that worked for them. The coverage feature can help them find barista coverage, but when they are the key holder, they would need another shift supervisor to cover them. 
3 out of 8 partners wanted more time to find coverage, they wondered how the feature would work if they required coverage within the next hour. The current design only offers a 48 hours window, in order to reduce confusion and cognitive overload a better description of how the coverage feature works is required.​​
6 out of 8

 users had a hard time visualizing how partners would accept to cover shifts, they were shown a wireframe in order to help them understand the "accepting coverage process".
5 out of 8

users liked the green challenge feature, but were unsure of how to use it. The feature requires more research and design. Partners were unsure how someone would regulate the points. 
Partners were unable to use the all partners schedule and found it a bit harder to read, thus a redesign of this feature is necessary.
The redesign requires more work in the improvement of the usability and design of the app. Next steps include a better "all partners" schedule, a new scheduling system for Shifts and Managers, A redesign of the green challenge, and a design concept for the onboarding and sign up process. 
Feedback on the redesign is mostly positive, partners appreciate the improvements on the usability, features and visual design of the app.  They are especially excited about the coverage feature they trust it will improve communication in their store and reduce anxiety related to work.